Bio
Kyna Uwaeme is an artist and freelance photographer from Washington, DC. She received her BA in Journalism from Norfolk State, allowing her to hone storytelling skills. Uwaeme has built her work around highlighting her community and culture intentionally empowering her subjects. Her ability to capture her subjects in a real, raw and compassionate way is what has allowed her work to stand out.
Uwaeme explores many mediums within photography shooting with 35mm film, medium format, polaroid and digital cameras. To her the camera is simply a tool made to hold time still, creating memories, awareness and preserving history throughout her life.
Her work has bee featured in publications throughout the US such as The Washington Post, The Fader, Bloomberg Business, Dazed, People's Magazine, and more.
She is also the founder of a co-working art space called Golden Studios. She founded this space because she wanted to provide something to the community that she didn't have when she was starting out. The goal is to provide resources for artists and businesses within her community to thrive. They have hosted art shows, workshops, and Pop Ups and we also provide membership for creators to have space and equipment to make and share work of their own.
Artist Statement
Photography is an art for me to help better understand myself and the world around me. Forcing me to be present in the moment and aware of my surroundings I'm always looking for ways in which I can help my community progress through storytelling and images. Growing up in a rather reserved traditional Nigerian household, art nor expression was something that was encouraged. Photography has allowed me to have a voice within society and be a representative for others and with that I hope to create meaningful impact in the world.
Clients
The Washington Post
Starbucks
Inc Magazine
People's Magazine
The Fader
Bloomberg Business
Barron's Magazine
NPR
NY Times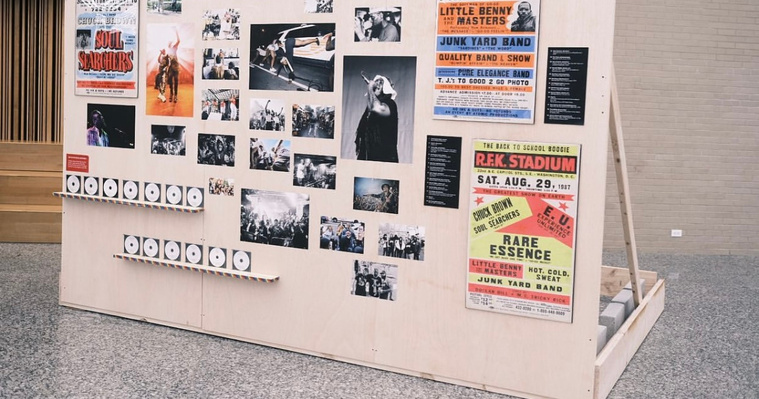 "Chocolate City Keep Crankin"
901 G St. NW, Washington, DC 20001,
November 16, 2022- Dec 15, 2022
The group photo exhibition celebrates Go-Go music and culture in Washington, DC through the unveiling of four monumental photographs in the Great Hall.

Harriet's Wildest Dreams Exhibit Eaton DC
Hotel | 1201 K St. NW, Washington, DC 20005 | 202-289-7600 Opening reception: October 15, 2021 — 6:30-8:30PM On View: October 15 - April 1st, 2022
Curators: Claudia Watts | Katie Petitt

Four women photographers follow the Black woman and the many waters she wades. Seeking to normalize and exalt her multifaceted existence, this collection of images explores sensuality, devotion, gratitude, glory, home, family, and self.Featured Artists: Dee Dwyer | Cheriss May | Kyna Uwaeme | Nyeusi Mwezi
Martin Luther King Library Exhibit
901 G St. NW, Washington, DC 20001,
October 2021
Her work is being featured in the MLK Library's new permanent exhibit, Up from the People: Protest and Change in D.C. Up from the People was installed as a part of the modernization of the Library, to honor Dr. King's message and his connection to local activism. Her image is featured in The East Gallery exhibit called D.C. Represented and covers local politics and history through displays on Mayor Marion Barry, D.C. home
Books
Long Live Gogo: The Movement , 2020
Features the work of six area photographers as well as a publisher's note from Joseph Orzal, a preface by We Act Radio's Kymone Freeman, and an introduction by Long Live GoGo founder Justin "Yaddiya" Johnson. The book includes images by six photographers, but most are by Akil Ransome, Dee Dwyer, Kyna Uwaeme, and Viva Ventura.
Copyright
All photographs appearing on this site are the exclusive property of Kyna Uwaeme and are protected under international copyright laws. Photographs are not to be downloaded, reproduced, copied, storied, manipulated, projected, used or altered in any way, alone of with any other material or by use of computer other electronic means without the express written permission of Kyna Uwaeme. The use of any image as the basis for another photographic concept or illustration is violation of copyright. By entering this site you are agreeing to the terms of this agreement.